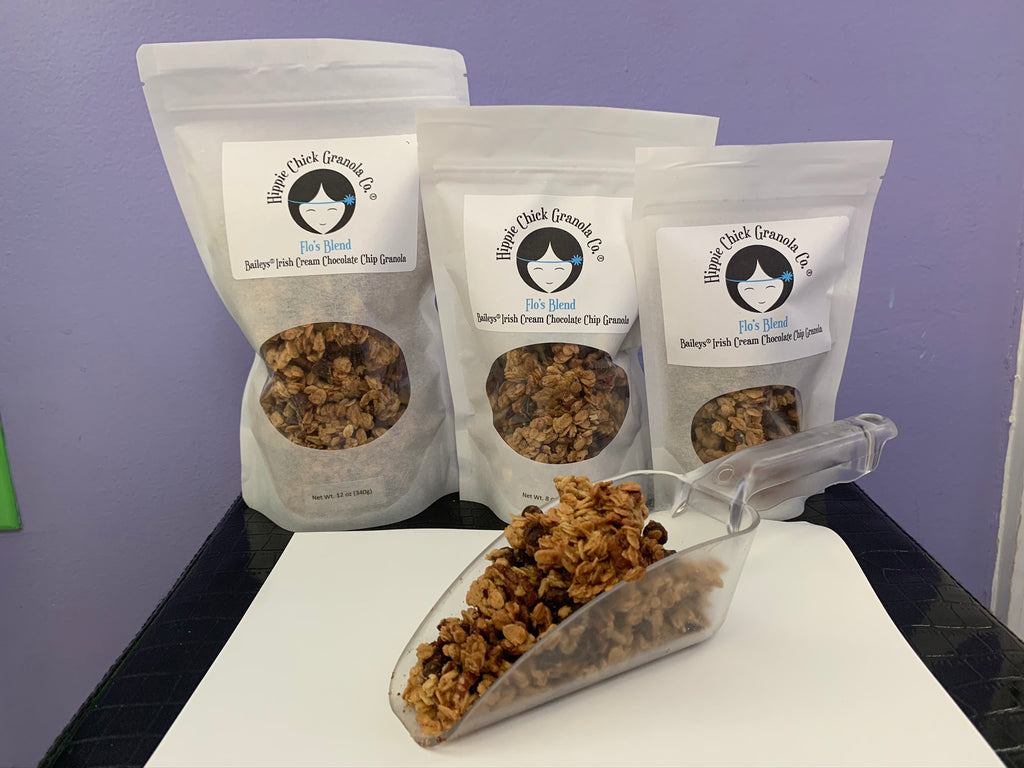 Flo's Blend: Irish Cream Chocolate Chip Pecan Granola
Inspiration:  This granola blend is dedicated to Ken's mom, Flo. She inspired him to cook and try new foods.  She always baked but really kicked it up a notch in retirement.  He developed this for the holidays because we would finish a special meal with an aperitif of Baileys.  Thanks Mom for the support and always saying 'I love you' when I needed it.  Smiling down we are sure she is proud of both of us for Hippie Chick Granola.
About Flo's Blend:
This flavor features, of course, Irish Cream.  We use both Flavored chips and Irish Cream in the batter.  (The alcohol bakes out.)  And we added pecans to give a depth of flavor.  
Ingredients:  Ingredients: Rolled Oats, Pecans, Baileys Irish Cream Chips (Sugar, Chocolate Liquor, Coca Butter, Dextrose, Soy Lecithin, and Natural Flavor) Pure Maple Syrup, Olive Oil, Baileys Irish Cream, Maple Brown Rice Syrup (brown rice syrup, maple flavoring), Brown Rice Flour, Vanilla (Organic Vanilla Extract, Alcohol, Water, Organic Coloring), Sea Salt
Contains:  Soy, may contain milk
Sending as a gift? 
We would be happy to send a handwritten customized note.  Write your note in the "Special Instructions" on the shopping cart page and we will add it to your shipment.  No pricing information will be included.