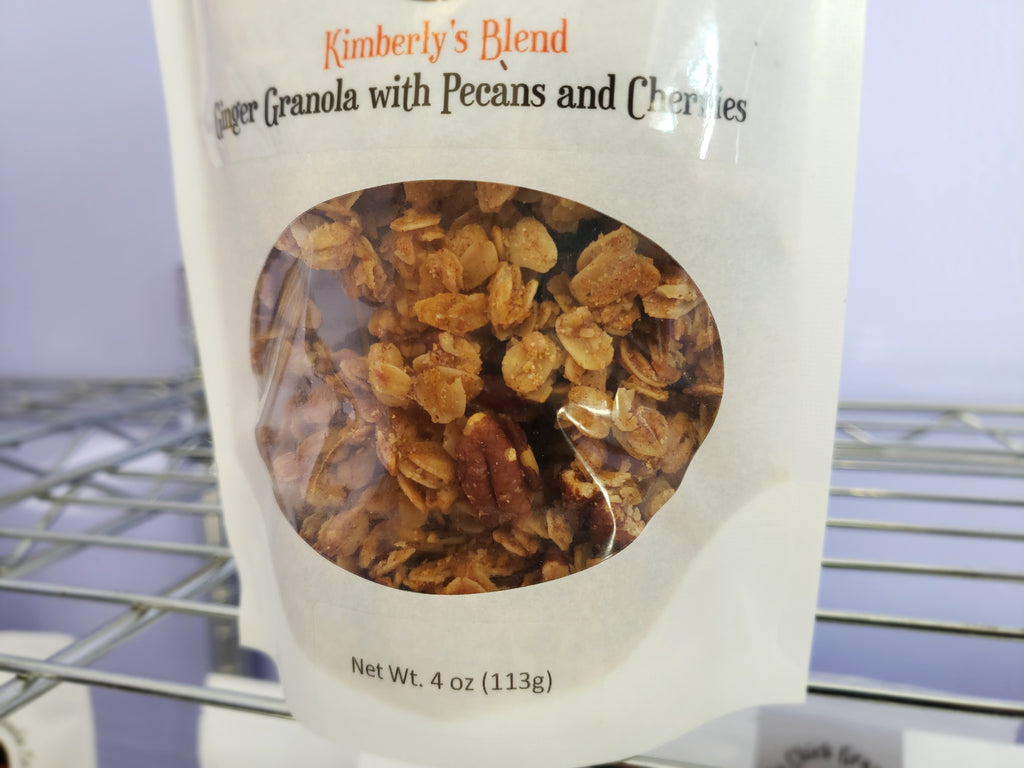 Kimberly's Blend: Ginger Pecan Cherry Granola
Inspiration: In 2013, Ilene's friend Kimberly handed her the keys to her North Carolina beach house so that she could create a fresh start for her and her children. It was in this kitchen, snacking on some candied ginger left behind in her pantry, that this blend of granola was conceived. This granola is dedicated to Ilene's lifelong BFF Kimberly, and to new beginnings.  

About Kimberly's Blend:
What better way to spice up granola than with little gems of crystallized ginger? Add in dried cherries, toasted pecans, cinnamon and a touch of honey, and we promise that the flavors in this blend will surprise and delight you!  Try it on top of a spinach salad with goat or feta cheese with a simple vinaigrette.  Perfect as a topping for yogurt.
Ingredients: Rolled Oats, Pure Maple Syrup, Dried Cherries (cherries, sugar, sunflower oil), Pecans, Olive oil, Brown Rice Flour, Dehydrated Whole Cane Sugar, Honey, Crystallized Ginger (ginger, raw cane sugar), Cinnamon, Nutmeg, Ginger, All Spice, Sea Salt
Contains:  Pecans 
Sending as a gift? 
We would be happy to send a handwritten customized note.  Write your note in the "Special Instructions" on the shopping cart page and we will add it to your shipment.  No pricing information will be included.