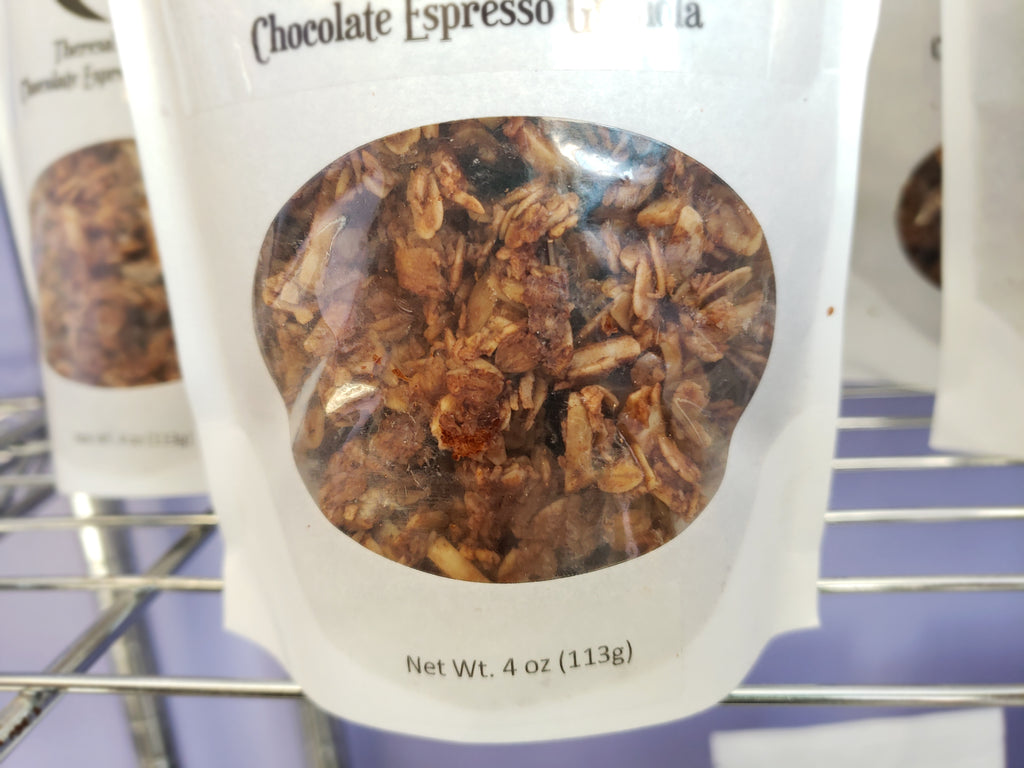 Theresa's Blend: Chocolate Espresso Granola
UPDATE: We now offer three sizes, 4, 8 and 12 ounce single pack bags.  So choose the 4 ounce bag if you want to sample or just want a smaller pleasure.   Please use "size" drop down menu above to make your size selection.   
Helping out a friend in a crisis is often not the easy thing to do.  It's usually the hard thing and the inconvenient thing.  But it's the hard things and the inconvenient things that often remind us we're alive and reaffirm for us why we're here.
This granola is dedicated to my friend Theresa, who, when I faced with a minor crisis in 2014, was not afraid to do the hard or inconvenient thing to help me.  May Theresa's generosity be a call to action to all of you help a friend in need, even when helping someone else seems difficult.
About Theresa's Blend:
Now *this* is granola with an attitude! Take the bold flavor of our bakery brewed espresso concentrate and combine it with pure cocoa powder, and vanilla, add in the nutty crunch from almonds and coconut, and toss in some chocolate chips just for fun, and you have a unique, delicious full flavored granola that could be described as your favorite chocolate breakfast cereal from childhood, all grown up!  What we like about this blend is that it is a perfect blend of espresso and chocolate.  It is balanced, not hitting you over the head with either flavor!
Ingredients:  Rolled Oats, Pure Maple Syrup, Olive Oil, Almonds, Chocolate Chips ((sugar, chocolate, milkfat, cocoa butter, soy lecithin), Coconut Flakes, Cocoa Powder, Brown Sugar, Bakery Brewed Espresso Concentrate (Espresso, Evaporated Cane Juice, Purified Water), Organic Brown Rice Flour, Scratch Made Vanilla Extract (Alcohol, Bourbon Madagascar Vanilla Beans),  Sea Salt 
Contains: Almonds, Coconut, Milk
Allergen Information:  Manufactured on the same equipment that processes peanuts, tree nuts, dairy, soy, and wheat ingredients. 
Sending as a gift?  
We would be happy to send a handwritten customized note free of charge on beautiful colored card with an envelope.  Write your note in the "Special Instructions" on the shopping cart page and we will add it to your shipment.  No pricing information will be included.  Gift bags are available on the web page.
Shipping:  Orders are shipped within 2 - 3 days of order placement.
Please see our FAQ page for information on shipping costs.